Introduction to JB Chemicals & Pharmaceuticals
JBCPL ranked 34th in domestic pharmaceutical industry with headquarters at Mumbai with a staff of more than 2100. The company was established on 1976 with offices in India and around the world. It earn 50% of the revenue from outside India and key markets are: US, UK, Canada, Mexico, Brazil, Australia, South Africa and Russia-CIS.
This company has major presence in cardiovascular and gastrointestinal space with key products: Cilacar, Nicardia, Metrogyl and Rantac. All these medicines have high acceptability around the world. Rantac and Cilcar featured in top 100 brands in value terms while Metrogyl and Nicardia featured in top 130 brands in unit terms (source: IQVIA March, MAT 2020). It has also intensified its in brand building in other segments like antibiotics, pain management, dermatological, tonics and respiratory segments.
Financial Analysis JB Chemicals & Pharmaceuticals

JBCPL has six straight years of out performance of domestic business beating the industry growth rate. During 2019-20 the domestic business grown by 18.20% against industry average of 11%. That is why the company financial position is surging with the growing trend in the sales performance of the company.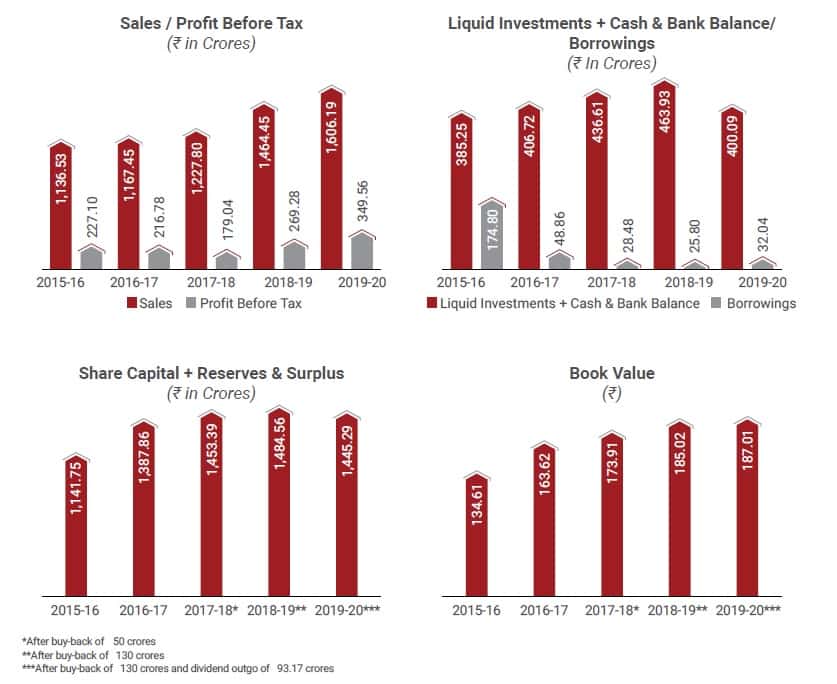 The above charts are showing a good overall performance for the company with rising sales, net profits and decreasing borrowings resulting in lower interest outgo. This improving financial performance are getting replicated in JB Chemicals share price.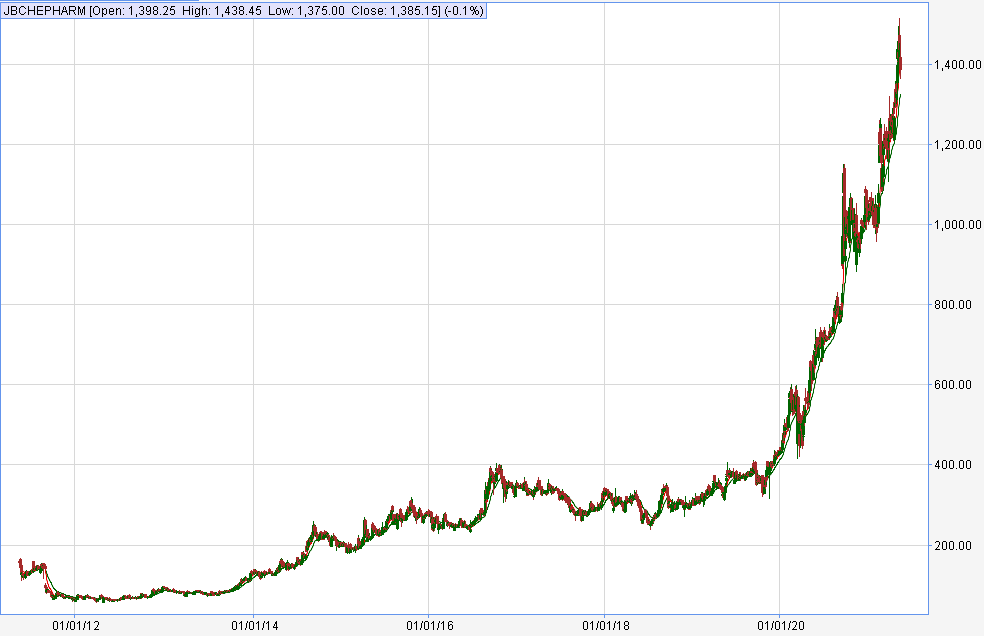 The stock price on 16.05.2011 was just Rs 159.20 and on 14.05.2021 trading at 1385.15. This means that the JB Chemicals share price has grown by 8.7 times and providing a CAGR of 24.12% over ten year. 
JB Chemicals Opportunities & Threats
The pharmaceuticals industry is growing well from last many years and expected to do well with rising per capita income and increasing health awareness. The trend likely to continue with increasing health  awareness among the masses. The best part here is JB Chemicals is growing faster than industry itself and now the company is focusing on Tier II and Tier III cities. This will further boost the sales for the company in coming years.
The only limitation for the company is its presence only in one segment i.e. Pharmaceuticals. So any impact on industry will have  a major dent on the revenue of the company. Another risk is rising covid 19 cases in India that can result in under performance of its sales for some time. The best part is  that company is well diversified among geographies and cases are reducing in west world like USA, UK. 
I hope you will like the article and in case of any query kindly leave your comment,  we will get back to you.  You can also open demat account for proper guidance by clicking on the link.
Open Your Demat account and enjoy the benefit of proper guidance and lowest brokerage
Our email content is full of value, void of hype, tailored to your interests whenever possible, never pushy, and always free.