Introduction to Indian Energy Exchange
Indian Energy Exchange is the largest energy exchange in India that is providing trading platform for nationwide physical delivery of electricity, renewable energy certificates and energy saving certificates. Both buyers and sellers of electricity comes together on the exchange to trade the electricity. This result in meeting the electricity requirements of users on timely manner. The greatest advantage of the exchange is transparency and price discovery.
Today, exchange is managing more than 6700 participants, 50 plus distribution companies, 500 plus electricity generators, 4200 customers from different industries to receive timely electricity requirements.
The exchange is acting as a trading platform that is bringing surplus producer of electricity and deficit users of electricity together by making exchange of electricity possible.
How Power Is Traded in India?
In India, 90% of the power is traded with long term contracts between the producers and consumers of electricity. Only 10% of power is traded with short term contract. Out of this 10% of short term contracts 50% is traded through exchanges. IEX exchange holds monopoly in this segment with more than 90% of power is traded on the exchange. (Table A & Table B will make things clear)
Growth Driver for the Exchanges
India's per capita consumption of power is expected to double in next 5-6 years. Presently per capita consumption is 1/3rd of global average. 
India is one of the fastest growing economies and require lot of power to accelerate the economic activity. This will further increase the power consumption.
Rapid urbanization will play a key role in enhancement of power consumption. 17 of 20 world's fastest growing cities are from India.
Also Indian government is taking initiative to provide 24*7 uninterrupted power to the citizens will play a big role in consumption of electricity. 
These factors will add to more trading on the exchanges and good for Indian Energy  Exchange on long term basis because any enhancement of consumption will lead to trading. This will increase the revenue for the company.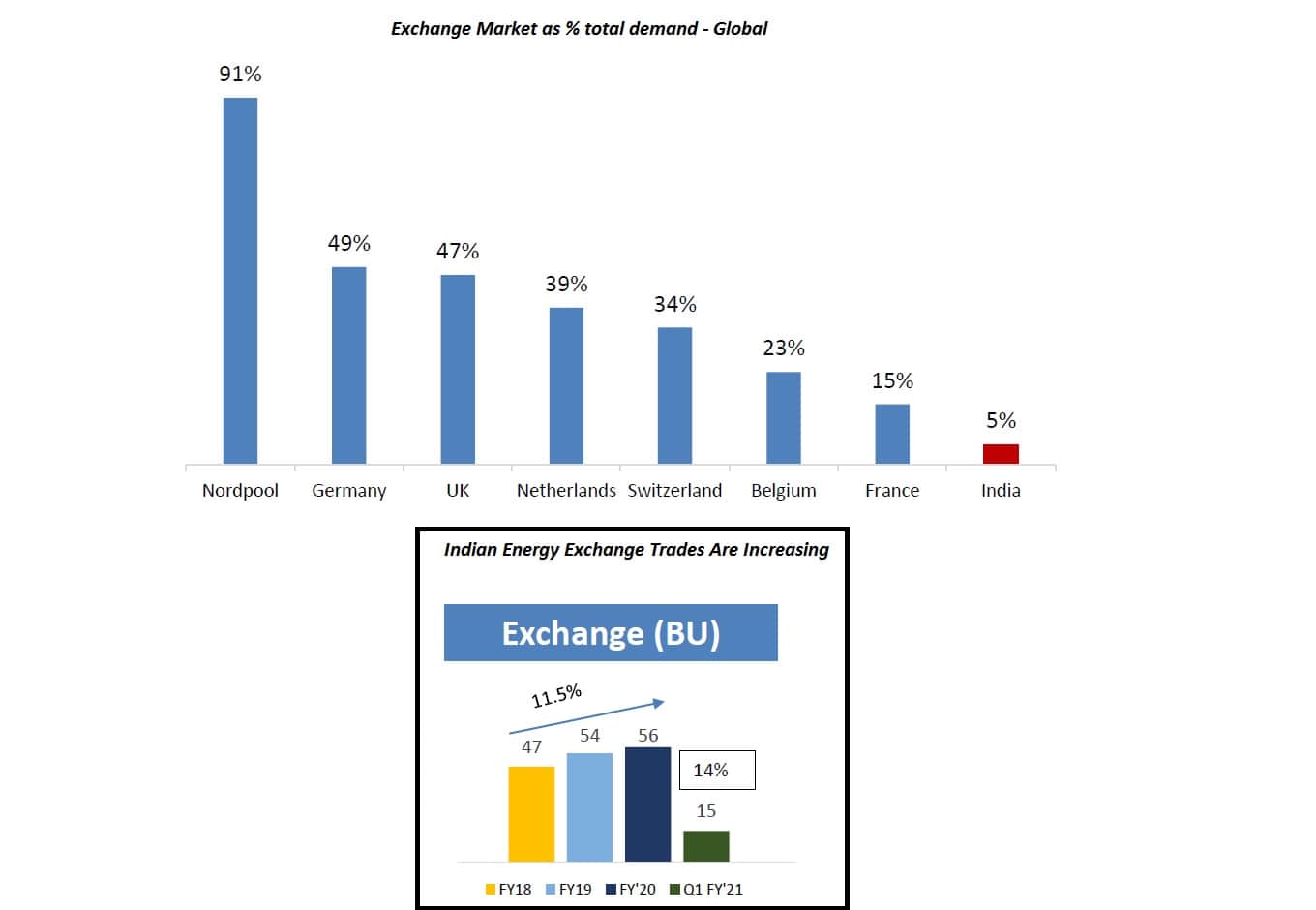 In India, power trading through exchanges is only 5% of total trading which is far lower than developed nations. Power markets in developed economies are in the range of 30-80% of total power demand through exchanges. This means that still lot of scope for growth. Indian government is also looking positive toward these exchanges as they can bring transparency and right price for trading of units.
IEX Share Technical Chart
One can accumulate the stock for long term with 10 years horizon and enjoy the benefit of compounding. This stock has the potential to become multibagger on long term. 
Are You Making Losses? Why?
Open Your Demat account and enjoy the benefit of proper guidance and lowest brokerage
Join our community to get proper update on Trading Calls