ADF Foods Share Price Company History
ADF Foods is a leading manufacturer of processed food  with presence in over 52 countries and 180 distributors spread all around the world.  The products offered by  the company are as follows:
Ready to eat  foods.
Pickles 
Chutneys and sauces.
Flavored milk
Garlicky-gingers pastes.
and vast variety of frozen foods.
It has established the operation in the year 1992 and today 95% revenue comes from export to many countries around the world.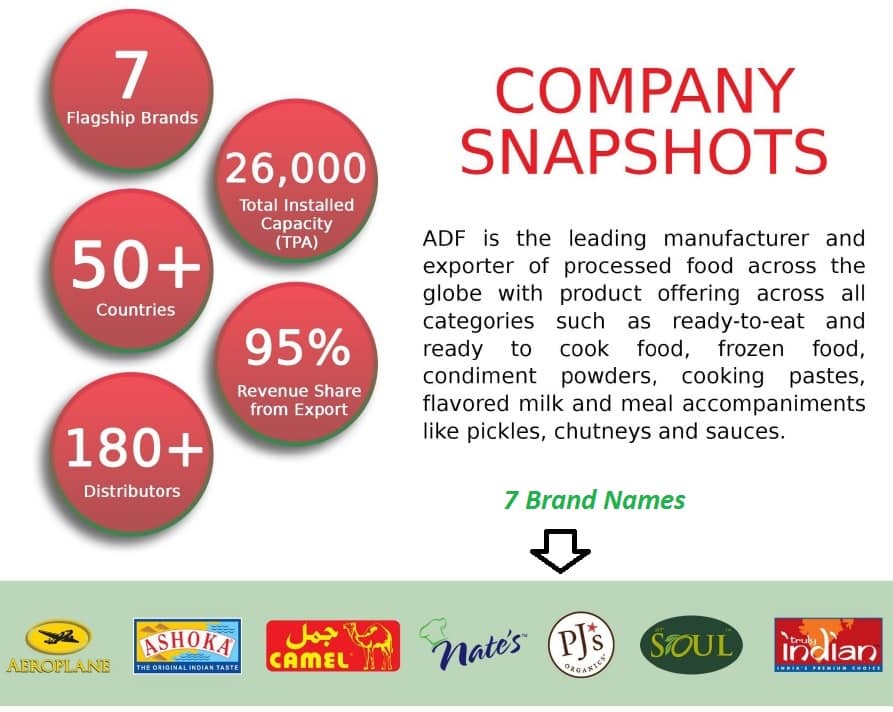 ADF Foods Share Price Revenue Distribution
Core Business: Export Indian ethnic products like ready to eat meals, pickles, frozen foods etc to more than 55 countries including US & Europe.
US Subsidiary: Here the company deals in in natural and organic Mexican food as well as meat substitute products.
Agency distribution business: Distribution of consumer products of Fortune 500 companies in US and UK markets for eg. Red Label, Knorr etc.
Indian business: The company has launched SOUL brand for Indian market that deals in healthy and tasty products like olive oil based pickles.


Since previous year the stock has gained alot with 4 times gain from previous year. It has proved to be multibagger with strong fundamentals. Still good to buy for long term in systematic manner.  
We offering you best trading platform for you.