To start designing your website first you need to login to WordPress dashboard where you will find all the tools to create a beautiful website. Login to WordPress is very simple by opening a new tab on Google or other search engines than type your domain name followed by wp-admin. This example will make it clear how to login?
If I have to login for my website than I have to type https://onlinetradeindia.com/wp-admin and new window will get opened like this:
You will receive the login id and password from Bluehost on your mail. There may be possibility of not receiving the mail instantly but you have another method to login to your WordPress dashboard.   
Alternative method to WordPress login
Type Bluehost on search engines or click here to reach there.
This will open cPanel page.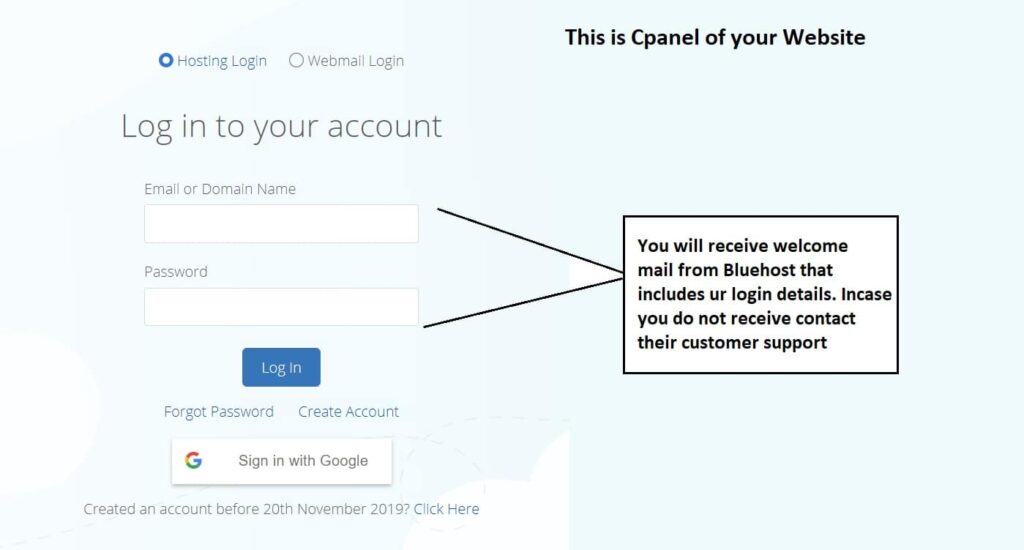 Click on log into WordPress and you will reach the WordPress dashboard. Congrats! Next tutorial will be the introduction of dashboard and tools to create website.
Setting Up Your own Website
This is a great platform to learn the skills to develop your own website without having prior knowledge of coding. We will go step by step to make your website live. In order to run the course properly, you require domain and hosting. Our recommendation goes with Bluehost that is one of the largest website hosting providers and powers millions of websites.
Platform For Outside India