WordPress Dashboard Image
Let's introduce you to WordPress dashboard. You will find all the tools that are needed for website development. We will go step by step to make you familiar with dashboard but first have a look on its image: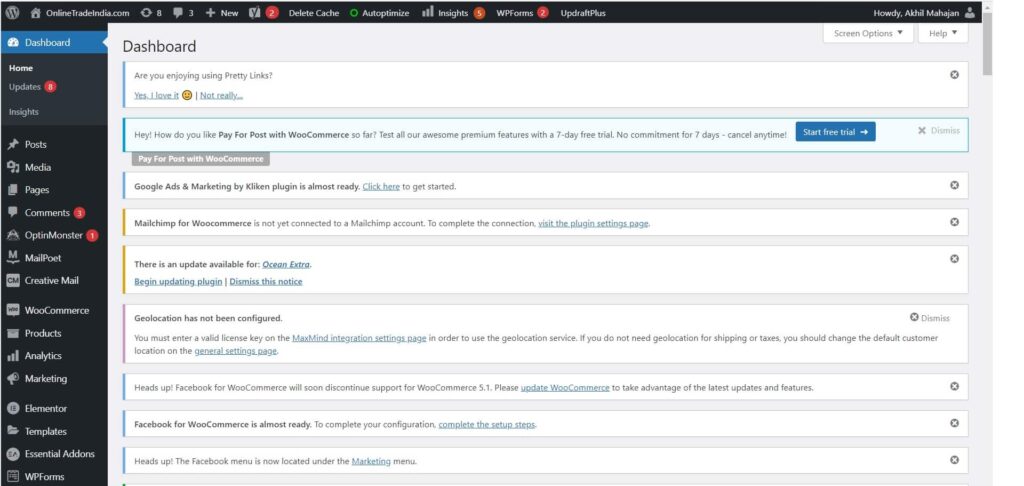 WordPress Dashboard Tools
Website Theme: You can select predesigned website theme to create your beautiful website available in dashboard.
Website Plugins: These are the tools that are essential for smooth running of your website like back up of your website, speed up your website, protection tools and much more. We will install all relevant plugins that will make your website light and beautiful. 
Posts: You cam publish articles on your website using posts section.
Pages: Here you can add pages to your website as per your needs.
Media: It will store uploaded video or files.
Comments: You can see what comment you are getting in each post that you need to answer to get connected with your audience.
Updates: These are super important to keep your website up to date.
Woo Commerce: This plugin will help you in setting up  your online store easily. You will learn how to open in this course.
Users: You can add Authors or  Administrator using Users section. 
Let's create your website together by following step by step guide that will bring your website live. This can be a bogging website, News website or any website you feel best for you. We welcome you to this beautiful course designed for you.
Setting Up Your own Website
This is a great platform to learn the skills to develop your own website without having prior knowledge of coding. We will go step by step to make your website live. In order to run the course properly, you require domain and hosting. Our recommendation goes with Bluehost that is one of the largest website hosting providers and powers millions of websites.
Platform For Outside India