Axis Focused 25 Fund GR scheme objective is to generate long term capital appreciation by investing in a equity & equity related instruments of up to 25 companies.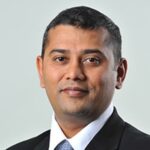 Mr. Jinesh Gopani is managing the Axis Focused 25 Fund GR since 6th July 2016.
He is head of equity.
Hold's M.M.S. in Finance from Mumbai University.
Having 16 years capital market experience of which 8 years in Equity fund management.
Worked with Birla Sun Life Mutual Fund & Voyager Capital.
Axis Focused 25 Fund Gr has generated good return for the investors through right selection of the stocks. We have evaluated a SIP return for the fund based upon different periods. SIP amount is Rs 10000 invested per month. Let's understand the wealth created by the fund.
Axis Focused 25 Fund has successfully generated the return as can be seen in the picture. In last 5 years, the fund has generated a CAGR of 19.12% return. A SIP investment of Rs 10000 started 5 years back has  generated a profit of Rs 408539 on investment of Rs 600000. This shows that fund has generated fantastic return.
How Axis Focused 25 Fund GR has generated such returns? All credit goes to the right stock investment and sector.  
Axis Focused 25 Fund is well managed fund and right for you to invest in systematic manner through SIP. If you like the fund than call us at 9906357069.