SBI Bluechip Fund investment objective is to generate long term capital appreciation of wealth for the investors through active management of investment in large cap equity stocks in S&P BSE 100 index. 
It is an open ended large cap scheme with benchmark S&P BSE 100 index. Its follows blended approach by picking value and growth stocks on basis of both top down and bottom up approach.
MS. Sohini Andani is a commerce graduate from University of Mumbai and a Chartered Accountant. She has 23 years of experience and joined the SBI Mutual Fund as Head of Research in 2007 subsequently promoted as Portfolio Manager in 2010. Her experience is spread among prominent companies like ING Investment Management, ASK Raymond James, LKP Shares and Securities, Advani Share Brokers and KR Choksey Shares and securities. She also manages SBI Magnum Midcap Fund apart from this scheme.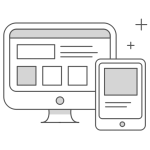 SBI Bluechip fund has  launched on 14th Feb 2006 and managing Rs. 26,816 crore as on 28th Feb 2021. Now let's explore the Systematic Investment Plan (SIP) performance of the scheme in order to find out how much fund has generated the return? This will give us a fair idea of whether the scheme is worth investing and will able to achieve our financial planning goals or not through systematic Investment Plan (SIP). 
We will take an example of Rs 10000 SIP per month investment to find out the return both in percentage and money Value. First lets evaluate the SIP performance based upon percentage.
SIP Performance Based Upon Percentage
Now lets evaluate the SIP performance based upon money value.
SIP Performance Based Upon Money Value
Top 10 Stock Holdings:
HDFC Bank: 9.87%
ICICI Bank: 6.79%
Infosys: 4.83%
HCL Technologies: 4.46%
HDFC: 4.26%
Larsen & Turbo: 4.07%
ITC: 3.49%
State Bank of India: 3.22%
Shree Cement: 2.96%
Divi's laboratories: 2.92% 
Sector Wise Asset Allocation:
Financial: 36.95%
Automobile: 10.54%
Technology: 10.06%
Construction: 7.75%
Energy: 6.93%
Engineering: 4.16%
Diversified: 4.07%
Communication: 2.18%
Others: 5.22%
The fund has really generated returns for the investors and proved to be a wealth creator. In order to help you in investing in this scheme easily, we have provided you a link below.