Stocks Buzzing on Trading Charts
We have identified these stocks on the basis of certain trading patterns emerging on daily and weekly charts. These stocks are positional trades that can be kept in the portfolio with 15 to 30 days. Our suggestion is to hold these stocks till target achieved or stop loss hit. Higher the Risk Reward ratio better it is with ideal ratio 2 times or above.
Traders should not treat these calls intraday as these are positional trades with 15 to 30 days horizon and hold these positions till target hit or stop loss. It can become intrady trade only if its hit either stop loss or target.
INFOSYS, CMP: 1415.30 Action: Buy Near CMP ,Target: 1477.55, Stoploss: 1390,  Risk Reward Ratio: 2.46 times, What to do? Hold till target meet or exit if stop loss hit.
TITAN, CMP: 1730.75 Action: Buy Near CMP ,Target: 1850 , Stoploss: 1665.5,  Risk Reward Ratio: 1.82 times, What to do? Hold till target meet or exit if stop loss hit.
SBILIFE, CMP: 998.6 Action: Buy Near CMP ,Target: 1044 , Stoploss: 960,  Risk Reward Ratio: 1.18 times, What to do? Hold till target meet or exit if stop loss hit.
HCLTECH, CMP: 971.3 Action: Buy Near CMP ,Target: 1050 , Stoploss: 930,  Risk Reward Ratio: 1.90 times, What to do? Hold till target meet or exit if stop loss hit.                                     
Refer to Earlier Recommendation Section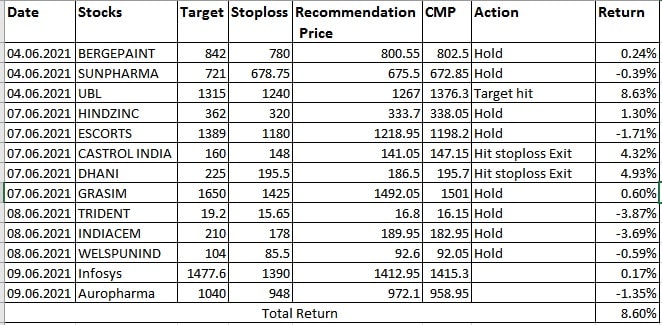 Join our community to get proper update on Trading Calls