What are you waiting for? Start your investment from company website .
ABSL Frontline Equity Fund investment objective to generate long-term capital appreciation with a target allocation of 100% in equity portfolio of diversified stocks/sectors chosen from Nifty 50 Total Return Index (TRI).
It is an open ended mid cap scheme with benchmark Nifty 50 total return index (TRI). Growth Stocks will be picked on the basis of superior growth opportunities that will be fruitful for the portfolio in long term.
ABSL Frontline Equity Fund is managed by Mr. Mahesh Patil with Management degree from Jamnalal Bajaj institute, Mumbai and a charter holder from ICFAI, Hyderabad. He holds designation of Co-Chief Investment officer at ABSL AMC and working since 2005 with the company. He manages a team comprises of twenty Fund Managers and analyst with portfolio of 93000 crores Asset Under Management (AUM).
How is ABSL Frontline Equity Fund?
The scheme has  launched on 30th Aug 2002 and managing Rs.19,568 crore as on 28th March 2021. Now let's explore the Systematic Investment Plan (SIP) performance of the scheme in order to find out how much fund has generated the return? This will give us a fair idea of whether the scheme is worth investing and will able to achieve our financial planning goals or not through systematic Investment Plan (SIP). 
We will take an example of Rs 5000 SIP per month investment to find out the return both in percentage and money Value. First lets evaluate the SIP performance based upon percentage.
SIP Performance Based Upon Percentage
Now lets evaluate the SIP performance based upon money value.
SIP Performance Based Upon Money Value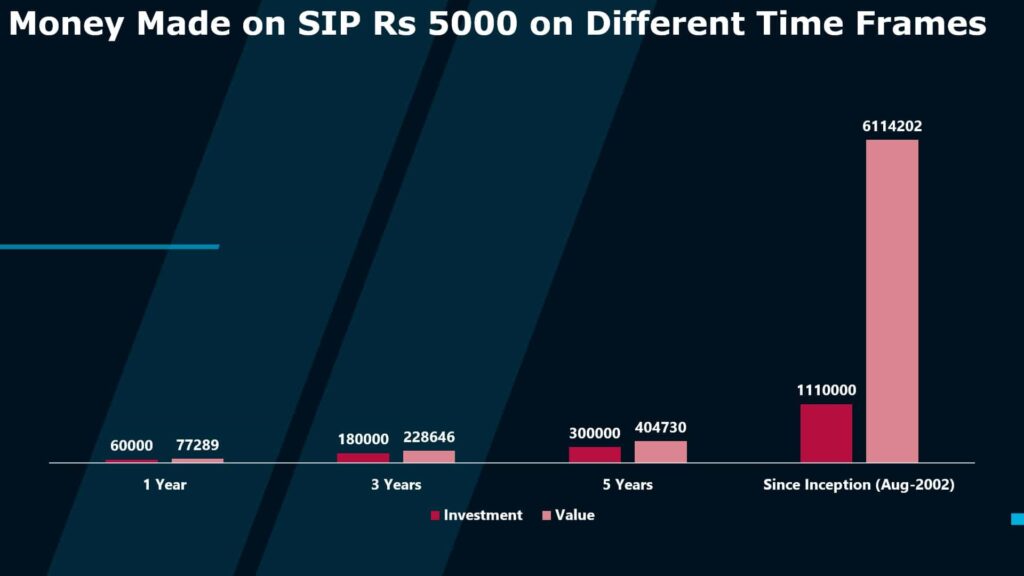 Portfolio of ABSL Frontline Equity Fund
Top 10 Stock Holdings:
ICICI Bank: 9.52%
Infosys: 8.02%
Bharti Airtel: 4.84%
Reliance Industries: 4.79%
Axis Bank: 3.40%
Larsen & Turbo: 3.25%
Tech Mahindra: 2.24%
Cipla: 2.23%
Hindustan Unilever: 2.03%
Divi's laboratories: 2.92%
Sector Wise Asset Allocation:
Financial: 26.13%
Technology: 12.60%
Energy: 10.52%
FMCG: 7.05%
Healthcare: 6.47%
Communication: 4.84%
Automobile: 4.51%
Construction: 4.10%
Cons Durable: 2.87%
Others: 20.91%
The fund proved to be wealth creator for the investor who are having long term investment. An ideal investment to achieve long term financial planning goals.  
DO YOU LIKE YOUTUBE VIDEO & ARTICLE? Do comment! 
Enjoy other articles in your email!
Our email content is full of value, void of hype, tailored to your interests whenever possible, never pushy, and always free.